The profile of Them Crooked Vultures is cast fairly low right now, considering the personnel. The trio of John Paul Jones (Led Zeppelin) Dave Grohl (Foo Fighters/Nirvana) and Josh Homme (Queens of the Stone Age) relied on word of mouth and internet chatter to build a buzz for a tour and an album that isn't even out yet. After some scattered shows across Europe the, shudder to say, supergroup, is now heading across the US and then back to Europe. All the while the group's most official releases are a few thirty second youtube teasers.
What is apparent as Them Crooked Vultures took the stage at Detroit's Fillmore is the joy on Grohl's face as he sits behind the drum kit looking over to see John Paul Jones as the other half of his rhythm section. The two mesh up perfectly as Grohl smashes through his drums while peering occasionally to lock in with Jones' nimble basslines. Homme, who carries the majority of the lead singing, is also joined on guitar by fellow QOTSA multi-instrumentalist Alain Johannes, for the group's vintage tinged dual guitar attack. Homme, Jones and Johannes all took their share of slide guitar work as well.
Not surprisingly, it is Jones who pushes the band into some interesting territories. Most of the show is fairly straightforward hard rock, with Grohl leading the charge behind the drumkit. However there were a few curveballs with Grohl utilizing his e-drums and Jones on a keytar during the eerie crawl of "Interlude With Ludes." Jones spent the show bouncing around from bass, keyboards and slide guitar. With the exception two slower tunes, it was the hard rocking tunes like the needling of "Scumbag Blues," (which had Homme snap a string as he wailed away on his final solo,) and the extended closing "Warsaw," that fueled the eighty minute set with no encore.
So, the always popular question for any supergroup, is the sum greater than the parts? When it comes to Them Crooked Vultures, the live feel of the band is, in the words of a front row fan, "to make you feel every fucking decibel." While the live quartet feeds off each other well, Grohl is still ravenous behind the drumkit and Jones' basslines and keyboard work create a lot of unique riffs for the Queens' guitar work to build off. However, it seems as the studio will really be where the depth and the unique musical talent of the tunes this band has written will be able to shine the brightest.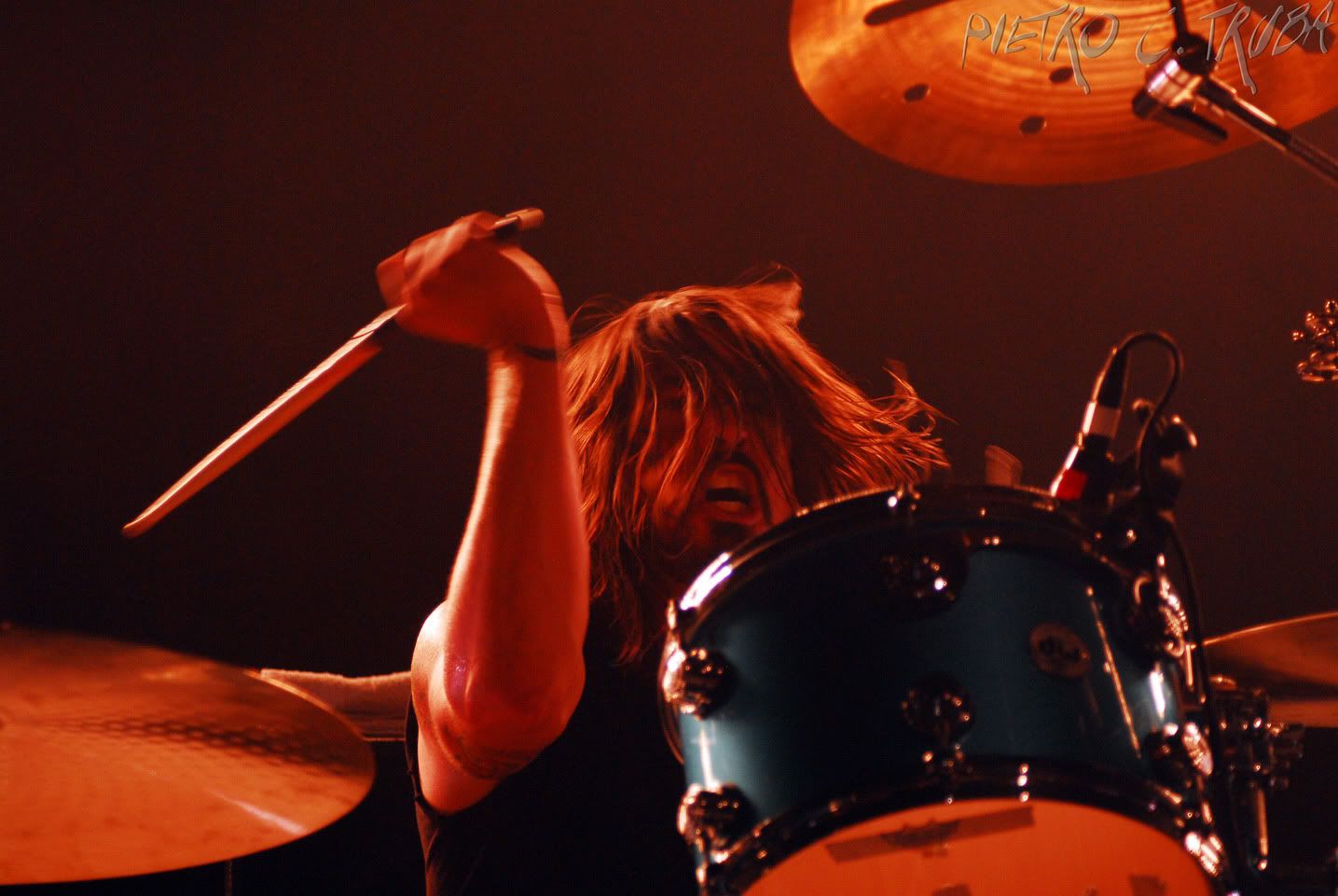 by Pietro C. Truba
Originally for
Relix Magazine